Merry Christmas & Happy New Year! From Joan Bannan
I have prayed for many or most of you reading this letter. I will be praying for you in 2021. You know who you are. As I write this, I am recovering from COVID-19 and have decided to send this and future Christmas Newsletters in a digital format.
Retirement
I retired from AT&T on November 15th of last year. AT&T gave me a stipend for a retirement party that I finally held in June at the Boathouse. This great picture is of everyone who was there that calls me Grama Joan, plus Peter and his girlfriend, Tasha. I imported a picture of Andrew, who was only there in spirit. Kris happened to be in the background. Jenn and Tony are photobombing.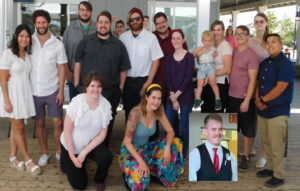 Below is a picture of me, Joe Stevens (Sandy's sweetheart) and my BFF Sandy Isganitis.
Tasha
Did you notice that I said Peter had a girlfriend? This lovely Christian woman is Filipino. Her parents run a Christian school in the Philippines. She works for a property management firm doing business in Silicon Valley and Southern California. She's godly, adorable, and I love her.
Novels and Procrastination
I have enjoyed retirement far too much. I'm still working on novel five, "Eleven-eighty-five Lincoln Avenue," but I've considered writing a master class on procrastination—if I ever get around to it. I've bogged down in my effort to get my first four novels into audible format. The Treasure of Granzella Ranch is SO close, but recovering from COVID-19 has enhanced my extraordinary ability to procrastinate. However, I'm optimistic that I'll have it live before the end of the year.  I'm setting goals for 2021.
This Year's Stats
Peter (30) lives with me on the weekends, but with Jeff and Jennine Thompson in Silicon Valley during the week. He is a Personal Trainer. He's buying the house and rents to me.
Tina and Charlie Fikejs (pronounced "fee-case") live here in Ripon. Charlie survived two heart attacks two years ago. We thank God every day that he's still with us. Tina is an administrator at Ripon Grace Church.
Ryan is soon to be 34. Three years ago, he married the beautiful, talented Alyssa Macy. They rent a little home that Tina and Charlie own across the street from them. Their son Bennett is a delight to everyone in our family. Ryan is an expert carpentry craftsman and an accomplished composer and arranger with a recording studio. He's plays bass, piano, and sings in the Rob Hill Band. Alyssa caters exceptional, stunning treats DBA Alyssa's Creative Confections.
Bennett with Grandpa Charlie at the Boathouse.
Alan (29) is at Grace College in Indiana majoring in Journalism.
Timothy is 27, soon to be 28. In October of 2019 he married the lovely, brilliant, nerdy-like-he-is, Lydia Bryant. Lydia is expecting a baby girl in April of 2021. They rent the front half of a duplex behind Charlie and Tina. Yup. Tina and Charlie are landlords for that property too.
Andrew is 23. He's interning as a paralegal. He also works for me. Is he my bodyguard? No. he's my gardener. (Let the LOTR nerds understand.) He rents the back portion of the duplex behind Tina and Charlie.
Jenn Mangini has a home at her dad and Kris' Mangini Olive Oil Ranch in Wallace, but spends most of her time with her partner, Laurie, in Fremont. She's presently working in the VA Medical department in Palo Alto. She comes to Ripon monthly for the Ripon Readers book club and to also get a Bennett fix.
Tony and Debra Mangini live in Concord. Tony is a WCPD Sargent and Commander of the WCPD Bomb squad that serves all of Contra Costa County. Debra is an esthetician who features amazing products from PCA.
Julia is soon to be 24. She's enrolled in the Diablo Valley College Culinary program.
Christina (21) graduating from Diablo Valley College this fall with an Associate in Science in Biology/Allied health. She will be moving on to a four-year university to attain a Bachelor's in Biology, focusing on Ultrasound.